Art, Food & Wine in Barcelona
Words can't fully describe it, but this was no ordinary green olive. Served on a tasting spoon, it was slick, likely from its olive oil marinade, soft, and tasted savory, salty, not briny, with a hint of garlic, thyme, orange zest and definitely olive juice. The famous tapas restaurant Tickets in Barcelona serves these "liquid olives" which are made using a time consuming process known as molecular gastronomy. Okay, whatever, I call it a work of culinary art (and genius) causing total sensory override. It truly may be one of the best things I have ever tasted.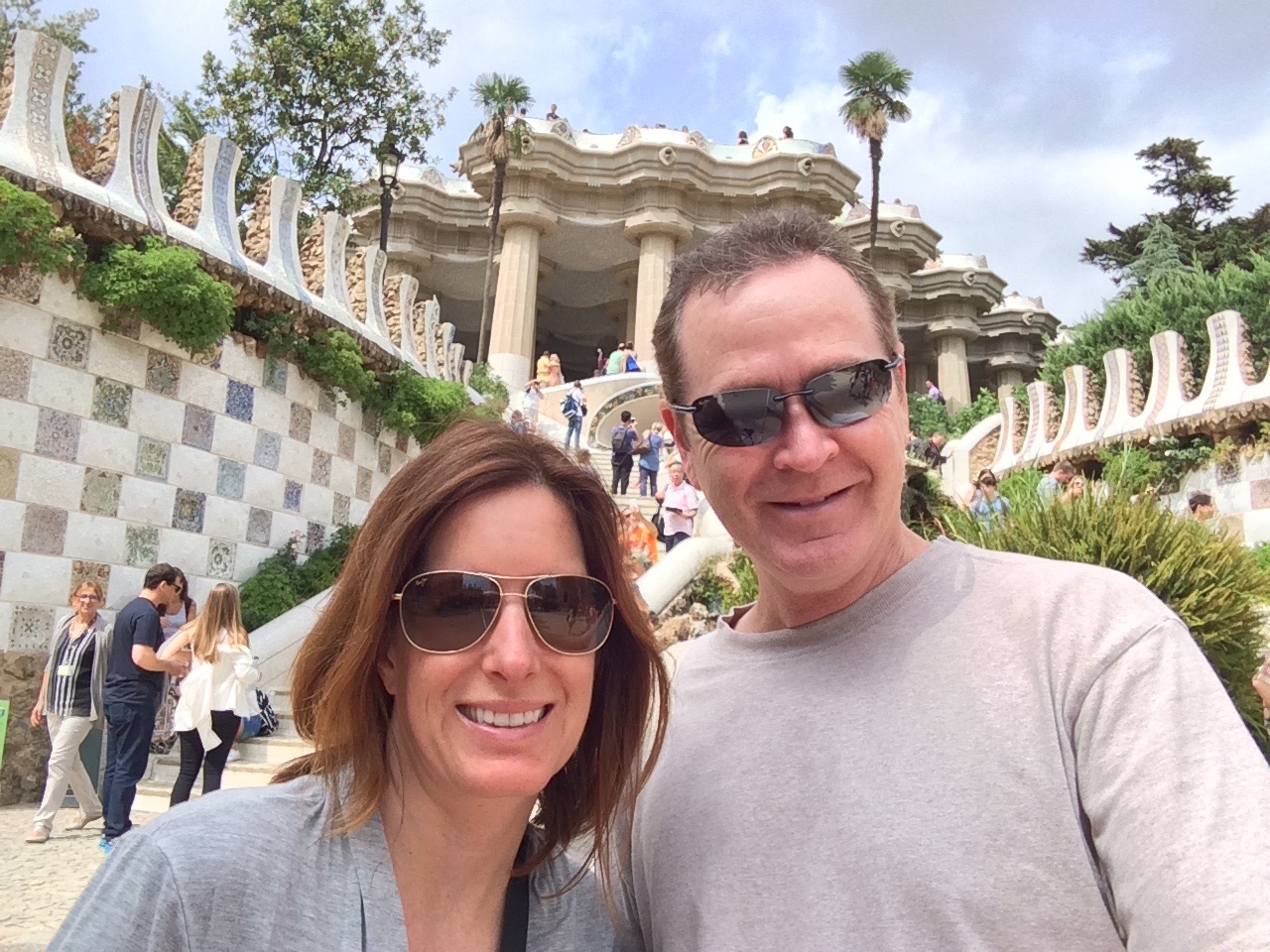 This is one of the many reasons Fred and I fell in love with Spain on our most recent trip. Famous for its rich history of conquistadors, tapas, flamenco, bullfighting and Christopher Columbus, it is easy to fall in love with its vivacious culture of friendly people, creative food, bountiful wine, and dramatic vistas. If there is one word to describe this alluring country it is Art! Art is in their blood and it is infectious.

Our three week trip through Spain started in semi-tropical Barcelona on the Mediterranean. Catalonian Barcelona is a captivating culture of contemporary art with creativity like you've never seen. It is a city dominated by Gaudi (1852-1926), the modernist who was a prodigy in fine art, math, architecture, design, craftsmanship and imagination. His work takes you into another world with his whimsical, fantastical, and otherworldly creations. There are no words to describe his Sagrada Familia-- seriously it is the most breathtaking cathedral I have ever seen, and I've seen a lot (according to Fred, too many)! A Neo-Gothic Catholic basilica with 18 towers soaring high above the city, it is a dedication to people of all religions inspiring faith, hope, and spirituality. An enormous project which began in 1882, it is slated to be completed in 2026 a century after Gaudi's death. To learn more and see great images of the interior and exterior, go to Sagrada Familia.

Our entire fun-filled experience in Barcelona took us touring by the Barcelona Tourist Bus and walking all over the city for six days. There are many modes of transportation available to make it easy to see the sites, but we found walking the best way to see most everything and work off some of our many delicious meals (ugh!). This city makes the top of our list for hospitable destinations. Take a walk with me to see our tour highlights...
HIGHLIGHTS & INSIDER SECRETS:
Mercat Sant Josep de la La Boqueria-- one of the biggest gourmet markets in Europe dating back to 1217 has a vast array of cured and fresh meats, cheeses, fish, fruits, vegetables, olives, nuts and candy. It is located off of the famous and touristy Las Ramblas. For a smaller, more local experience, visit the Santa Catarina market.
Tickets, a world-renowned gourmet tapas restaurant created by brothers Albert and Ferran Adria of elBulli, is set up like a theater from the outside and dramatic arts cafe on the inside. If you are one of the lucky few to get a reservation two months in advance, this is a sublime experience of food and art. Above left, you'll see the famous Sweet Tree with cherries covered in a savory whip (the scissors are used to cut the cherry from the tree), the culinary sleight of hand acorns tasting like aged parmesan, and the purple churros with an aioli dip. Above right, a tender sliced octopus served with tangy guindilla peppers. The food and presentations are something you will never forget. Reservation tip: the early bird gets the worm.
The mystical Sagrada Familia Basilica which draws millions of people from around the world is a moving, spiritual place that may just be Heaven in itself. Get your tickets in advance online and avoid the long lines. Do not miss it!
Another amazing Gaudi original, Park Guell is a cross between living in CandyLand and a Dr. Seuss book! Take a picnic lunch and sit in the outside public park while taking in the city views before entering Park Guell. Get your tickets in advance to avoid the lines. All tickets for Gaudi venues can be ordered easily on their websites.
Museums galore from contemporary art, marijuana, and eroticism, you won't be bored with the opportunity for culture. The 1992 Olympic Stadium and Village are even interesting to see. The shopping on Passeig Gracia and the old town is divine as well... can you say espadrille? Leather? Vintage? And reasonable? Oh! And the rooftop bars with sunsets and views for days (see Sagrada Familia in the background from Hotel Alma) offer crafted cocktails, cava, gin and tonics (a city favorite) and local wines. The Majestic Hotel has beautiful views of Passeig Gracia, Gaudi's Casa Batllo and the Mediterranean.
Finally, take in a summer concert on the rooftop of La Pedrera's Casa Mila, another Gaudi favorite. Originating from 1912, La Pedrera has to-die-for mosaics, dramatic ironwork, ghost-like statuaries and is an UNESCO World Heritage site. The roof line is dramatic with lots of towers, levels and views. We saw a memorable jazz trio one night while sipping on cava, Spain's sparkling white wine, and taking in the cityscape.